Why is a vehicle diagnostic test so important?
Gone are the days where you'd painfully describe your vehicle's malfunction to a technician, only to idly wait while they tried to locate the fault.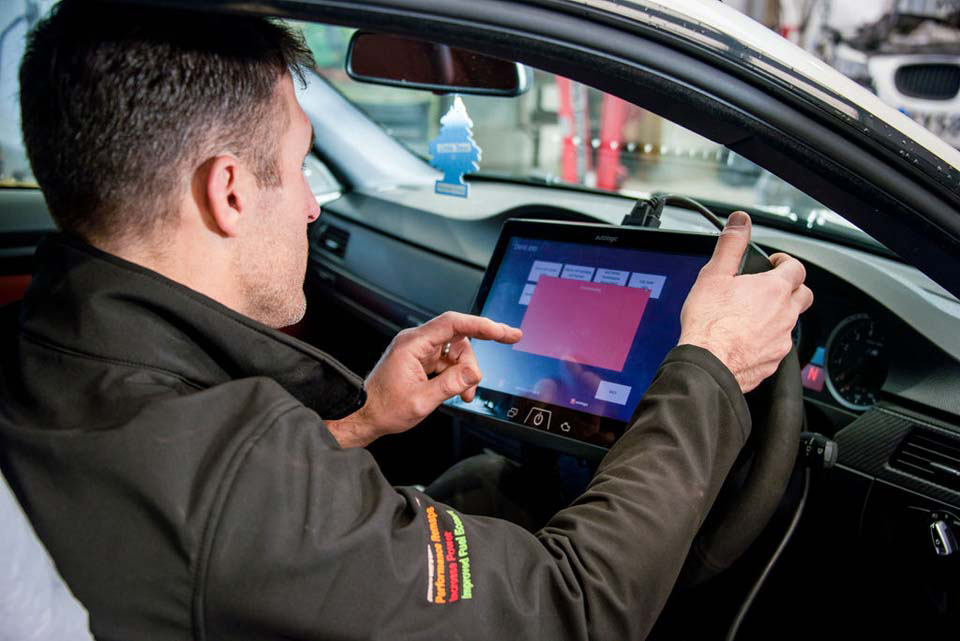 Instead, automotive technology has now reached a height where sophisticated software conducts most of the diagnostic work for us.
From minor faults through to major malfunctions, a technician can decode a diagnostic report, accurately identify any defects, and get to work on any repairs in much shorter timescales.
It means your car spends less time on the ramp and more time on the road.
But besides saving us time, why are vehicle diagnostics so important?
Here, we explain all…
What is a vehicle diagnostic test?
Developed in the 80s, diagnostic software is designed to tandem with your vehicle's onboard computer system.
By integrating with vehicle sensors, manufacturing codes, and various other information, the diagnostic software generates a thorough health check report, listing identified faults.
Depending on the software's specification, the report will diagnose all major systems and components within your vehicle, giving a clear indication of any issues affecting performance.
At C R Allen & Sons, we use up to seven high-tech tools to run complete diagnostics on any vehicle, no matter the age, model, or specification.
Components checked by diagnostic software will generally include:
engine performance
transmission
ignition coils
exhaust
fuel injectors
RPM levels
brakes
Once a diagnostic test is complete, your technician will use the report's manufacturer notifications, and other pertinent information stored in the onboard computer, to perform the best repair method.
By catching any mechanical fault in its infancy, you could be saving your wallet eye-watering vehicle repair costs in the future.
How does a vehicle diagnostic test benefit you?
As well as the peace of mind your 'check engine' light won't illuminate any time soon, a vehicle diagnostic test will also save you heaps of time and money.
By using a garage equipped with the latest diagnostic tools, your technician will spend less time wondering what's wrong with your vehicle and more time on getting it fixed.
In no time at all, you'll be back on the road knowing your vehicle is safe for both you and your passengers.
How long does a vehicle diagnostic test take?
Typically, a diagnostic test will take between 30 minutes to an hour to complete. However, when it's necessary to remove various vehicle components to complete a diagnostic, testing can take up to three hours.
During this time, any issues will be identified and later shared with you through a vehicle health check report. You can then decide which repairs, if any, you want to get fixed.
How much does it cost for a vehicle diagnostic test?
Across the UK, garages usually charge anywhere between £50 to £100 for a diagnostic test.
Factors affecting price could include the sophistication of the diagnostic equipment and, on occasions, the make, model, and specification of the vehicle.
In some cases, especially with high-performance vehicles, diagnostics may take a little longer. This, too, could be reflected in the price.
At C R Allen & Sons, we charge £60 inc. VAT for a vehicle diagnostic test. As part of our service, you'll also receive a report which indicates the current performance of your vehicle's major components.
If you want to find out more about our diagnostic service, one of our technicians will be glad to answer any questions.
How often should I get a vehicle diagnostic test?
At a minimum, we'd recommend your vehicle has a diagnostic test once a year. However, if you have any concerns in the meantime, it's worth booking a check-up with a specialist.
Some common indicators to watch out for include:
hearing something 'off' – this could be a rattle or squeak you've never heard before, but, more generally, it could be a change in the way your vehicle's performing. In both instances, get the issue seen sooner rather than later.
'check engine' light illuminates – this is your vehicle's way of telling you something is wrong. And although some drivers tend to ignore these clear warning signs, the sensible owners amongst us book a diagnostic test straightaway. Our advice? Don't take any risks.
buying a used car – before you hand over any cash for a used car, organise a vehicle diagnostic test with the seller. By checking all major components before a sale is agreed upon, you'll have peace of mind your new vehicle is roadworthy.
annual check-up – even if your vehicle has been running smoothly all year, we still recommend a yearly diagnostic test. By keeping on top of your vehicle's health, you'll be extending the life of your vehicle and improving its performance.
Where can I get a vehicle diagnostic test?
Most car garages will offer a diagnostic service, however, not all of them will be equipped with the last software and machinery.
At C R Allen & Sons, our highly experienced technicians are able to perform in-depth diagnostics on any vehicle with the latest range of diagnostic tools.
Want to keep your vehicle performing at its best?